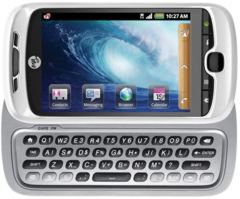 T-Mobile will add another Android smartphone to its Android posse, the
T-Mobile myTouch 3G Slide
. in June. It offers a new Faves Gallery social networking unified app, mult-modal screens and a "genius" to take your commands.
The
T-Mobile myTouch 3G Slide
, designed by HTC, has a 3.4-inch HVGA 5-megapixel camera, a music player with a pre-installed 8GB microSD memory card, and enhanced video capabilities with easy-sharing via e-mail, MMS ,YouTube and Picasa.
Faves Gallery offers up to 20 of your favorite people and the different ways to communicate with them -- calls, texts, e-mail, instant messaging, social networking updates in a widget app e with photos, contact information and one-touch ability to respond.

When a Fave calls, texts, or updates their social network you get a notification in the notification pane and a green light. You can answer directly from the Faves Gallery, without launching another app.

With the Genius Button, you press one button, talk, and it delivers. The Genius Button, allows the use of voice commands to control the phone and it's features including making calls, composing and sending texts and e-mails, searching the web or your surroundings. It will even read text messages aloud, and lets you dictate responses naturally as if you were speaking directly to a person.
myModes is a changes home screen apps, widgets and wallpapers to empower people in the different roles they play each day. You can set myModes to switch at a designated time, by location, or manually with the option to create and store up to 10 customized modes.
No price has been set
T-Mobile myTouch 3G Slide
,but it will be available in June along with the new iPhone and other new hot smartphones.
Android
smartphones