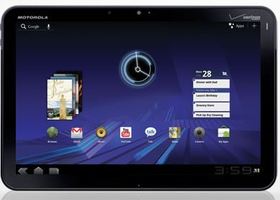 The Motorola XOOM tablet has been officially announced at CES with the new Android 3.0 Honeycomb operating system, a dual-core processor with each core running at 1GHz, delivering up to two GHz of processing power, and a 10.1-inch widescreen (1280x800) HD touchscreen. It will first launch at Verizon with 3G and then will upgrade to LTE.

Remember we told you it may be slightly bigger than the iPad? Well it is.
The Motorola XOOM allows users to view HD content, supports 1080p HD video and has an HDMI output.
The Motorola XOOM features a front-facing 2-megapixel camera for video chats over Wi-Fi or 3G/4G LTE, as well as a rear-facing 5-megapixel camera that captures video in 720p HD. Other features include 32GB of storage, SD slot for card support (after a firmware update) and 1GB DDR2 RAM.
Verizon also announced several 4G LTE smartphones including the
HTC Thunderbolt,
Samsung 4G LTE
,
LG Revolution
,
Droid Bionic
and Inspiration.
The Motorola XOOM tablet offers console-like gaming performance and features a built-in gyroscope, barometer, e-compass, accelerometer and adaptive lighting for new types of applications.

The Motorola XOOM has the new Google Maps 5.0 with 3D interaction and delivers access to over 3 million Google eBooks and thousands of apps from Android Market.
The Motorola XOOM's hotspot capability provides an online connection for up to five other Wi-Fi-enabled devices. Motorola claims up to 10 hours of battery life.
The Motorola XOOM tablet will first launch as a 3G/Wi-Fi-enabled tablet in Q1 2011 with an upgrade to 4G LTE in Q2. Starting in Q2 2011, the Motorola XOOM will be 4G LTE/Wi-Fi- enabled.
Get ready for a tablet invasion because over 80 tablets are being shown at CES.
Android Tablet
Honeycomb